Description
MeetingEye 400
Seize Every Moment, Catch Every Focus, Engage Everyone
Intelligent 4K Video Conferencing Endpoint for Small Rooms


20M Pixel UHD Bi-Camera | 133° FOV | Sony 1-Inch Oversized Sensor
Perfect in Detail and Panorama

20M Pixel UHD Bi-Camera
Bi-Camera integration of 20-megapixel ultra wide-angle 20-megapixel HD camera provides vivid meeting images and distant close-ups. Support dual 4K HD video calling and content sharing with a minimum of 2Mbps for 4Kp30.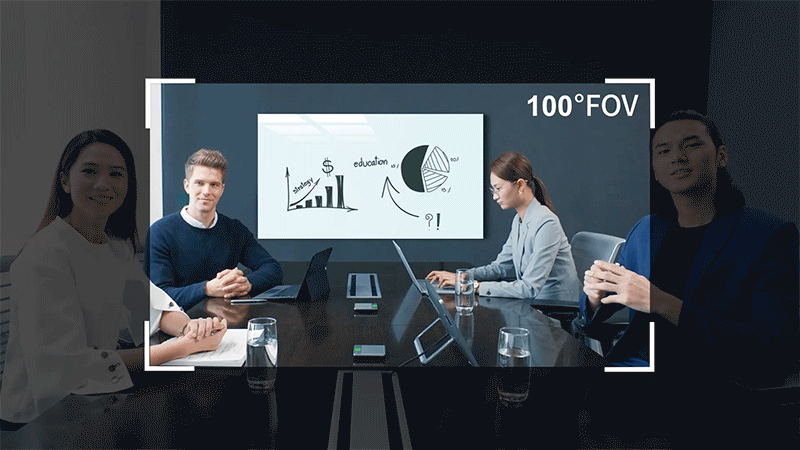 133° FOV
No need for camera adjustment, everyone and everything will be perfectly seized and presented.

10X Hybrid Zoom
10X hybrid zoom well satisfies the demand for medium-sized meeting room, ensuring all attendees in the shot without stretch or deformation and distant participants still clearly exquisite.

AI Intelligent Framing
Efficient Conference
Empowered with advanced AI technologies including face detection, sound source location, voice tracking, etc., the camera automatically quantity and location. Real-time close-ups to the presenter and manual operations free allow all attendees well focus on the meeting. adjusts to the best framing solutions according to the participants'

Sound Tracking, Quality Sound Effect
8 MEMS single-direction microphones are built into a linear microphone array to enhance noise elimination and reverberation capability. The newest upgraded Beamforming algorithm brings accurate directional voice tracing and quality conservations with full-duplex technology.
Multiple Screen Projection Methods
Convenient in Content Sharing
Support WPP20 wireless screen transmitter, AirPlay, Miracast, and other wireless screen projection methods, fast and convenient.


Automatic Lens Cap
Reliable Privacy Protection
the privacy-protection lens cap with visible state definitely erases Automatically opening in a video conference and closing when not, "camera anxiety" in daily.

All-in-one Design, Easy Deployment 
Built-in camera, microphones, speakers, video codec, Wi-Fi and Bluetooth,
MeetingEye 600 highly integrates all the functions conference needs and makes it simple to setup with minimum 3 cables.

Flexible Installation
Various installation methods according to the actual need ensure the best place of equipment, such as on the wall, TV racks, the tray or the counter.