Description
Explore More Details of CP960-WirelessMic
CP960-WirelessMic
First-class, high performance device for mid-large meeting rooms with up to 20 people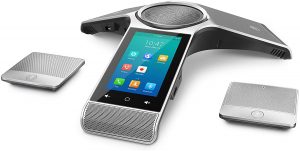 CP960-WirelessMic
Support Yealink CPW90 Wireless Microphone, allows 66 ft (20m) away from CP960 and 10 ft (3m) voice pick up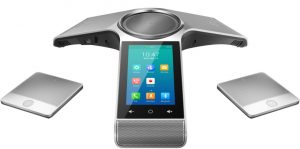 Key Features
Yealink Noise Proof Technology
The Yealink Noise Proof Technology intelligently eliminates background noises. It automatically mutes the microphone when no human speech is detected. When speech is detected, it automatically minimizes background noise.
Pentagon Meeting Room
The Yealink Pentagon Meeting Room refers to the Yealink CP960's user interface, which replicates the look of a Pentagon Meeting. This simple and unique interface adds customer value by increasing adoption rates and reducing the kinds of mistakes that adversely impact conference.
Hybrid UC Meeting
The Yealink Hybrid UC Meeting is designed to bridge calls from different devices into one conference call. By pairing your device via USB or Bluetooth with your Yealink conference phone, the calls can be connected to the conference phone.
Wireless DECT Microphone
The Yealink CPW90 Wireless Microphone increases voice pickup range and guarantees audio quality. Utilizing Wireless DECT technology, it allows the organization to place the microphone anywhere within the 20-meter signal reception range. This practical accessory adjusts to different types and sizes of conferencing